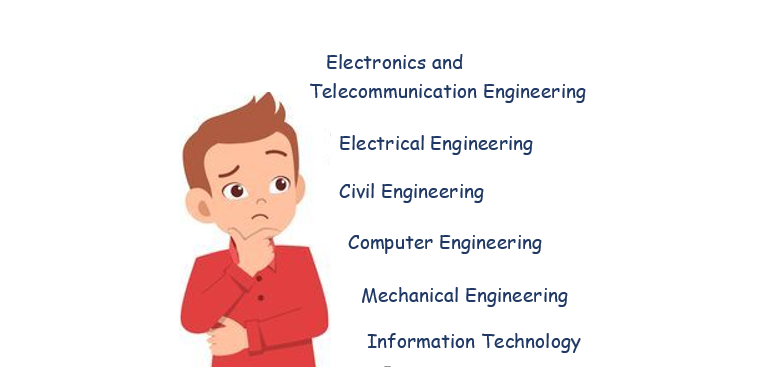 Tips to Choose the Right Engineering Branch for a Successful Career
As you think about admission in a reputed Engineering College for higher studies, it's not just about the quality of learning. A happening Engineering career is essentially on your mind.
Engineering education is one of the 'difficult' streams of higher studies. Stories of students scoring KTs are so common that one may accept it as a norm. Getting the degree can feel like a task to many. By the final year, several of the candidates stop thinking about the CGPA in the desperation of passing out. An unreasonable choice of Engineering Branch, to begin with, can leave you disinterested in the course of years in your B.E. or B.Tech degree.
The Common mistakes most students and parents make while locking on an Engineering Branch are based in shallow considerations. A branch that may lead to a high paying career or an outstanding prestige, may not suit a candidate as much as a branch considered after a counselling session with an authoritative faculty member from the industry or academia. That's why counselling after JEE exams is so important.
Most parents go by what newspapers say rather than listening to experts from the industry or conducting research themselves. While researching branches parents must consider what their child is truly interested in, or passionate about, so that they find the education enjoyable. Going beyond interests, projections about job trends in about 5 years can also help in making an unerring decision regarding the branch to choose.
Jobs are an important consideration. Not until you are a whiz kid should you consider a niche specialization like Aerospace Engineering. Although fascinated about space vehicles, you may not be aware of the determination, research and hard work that goes into making them. An Aerospace Engineer may sound like a hot job designation. But if you lose an appointment to a more deserving candidate, finding an Engineering job can be a disheartening experience. There's a reason why there's a high demand as well as an abundance of colleges for core courses like Civil, Electrical and Mechanical Engineering.
Civil Engineering deals with the design, construction and maintenance of physical and naturally built environments. Mechanical Engineering applies Engineering Physics, Engineering Mathematics, and Material Science principles to design, analyse, manufacture and maintain mechanical systems. Electrical Engineering is concerned with the study, design and application of equipment, designs and systems which use electricity, electronics and electromagnetism. These are some of the most popular engineering streams constituting Core Engineering Branches.
A Core Engineering Branch makes for a sensible choice because of the abundance of jobs for candidates in private as well as public sectors. A plethora of government organizations have a high number of posts to accommodate candidates with a degree from one of the core branches. Public Works Department (PWD), Central Public Works Department (CPWD), Indian Oil Corporation, Steel Authority of India Ltd. (SAIL), National Thermal Power Corporation (NTPC) are some of the most desired public sector organizations among Core Engineering candidates. Public sector appointments make for the job security of a lifetime.
Although private sector companies may not offer you job security, the salaries are higher and growth is faster. With a degree in a Core Engineering Branch, you may apply for a job at a number of private sector companies like Larsen and Toubro Constructions, TATA Projects Ltd., Ashok Leyland, Ford India, Mahindra and Mahindra, Crompton Greaves, Bajaj Electricals, Wipro Lighting Corporate, etc. These are just a few crest companies to name. They absorb the best candidates passing out with core branch degrees.
Coming to the Non-Core Engineering Branches, Computer Engineering, Electronics and Telecommunication Engineering, Information Technology (IT) are some of the prominent choices. The reasons are obvious- Software and IT are highly profitable sectors of the current times offering truckloads of job opportunities. If you are really passionate about computers and computer applications, and dream of a job in companies like Google or Microsoft, CE, EXTC or IT is what you must go for. When these giant employers visit campuses, it's just the CE, EXTC or IT candidates they wish to see.
Choosing CE, EXTC or IT has its own perks. During your academic years, you don't have to face inconveniences due to lack of infrastructure at your college. The infrastructure required for conducting these Engineering courses can be easily arranged. The software sector has more companies than any other sector, and the companies offer good salaries to their Engineers. You may also get an opportunity to work on a project abroad, which would add to your personal and professional skills.
There are many other Engineering branches that may intrigue you. Choosing them won't essentially mean that you might have to take a non-engineering job to make a living. But to remind, the number of job posts available for candidates with niche specializations are fewer in private as well as public sector.
Some Interesting Non-Core Engineering Branches:
Environmental Engineering specializes in finding solutions to problems that affect the environment. Environmental Engineers may help companies frame policies that comply with applicable environmental laws.
Nuclear Engineering is not limited to the celebrated job role of building secure nuclear reactor cores. Work of Nuclear Engineers is also found in medical devices used to treat and diagnose patients.
Material Engineering deals with using computers to understand the characteristics of materials and their components at atomic level, and creating innovative materials for developing sustainable products.
Chemical Engineering has a scope of work that ranges from optimizing DNA order to finding alternatives for fossil fuels. The field encompasses the study of Chemistry, Biology, Math and Engineering Sciences.
Biotechnology Engineering brings together the principles of Chemistry, Biology and Engineering. It studies how to work on chemical compositions and structures to create better molecules, and the implementation of these new compositions to manufacture products to masses.
This article aimed at helping Engineering aspirants choose suitable Engineering Branches is presented by Alamuri Ratnamala Institute of Engineering and Technology, excelling in conducting some of the best Core and Non-Core Engineering courses.