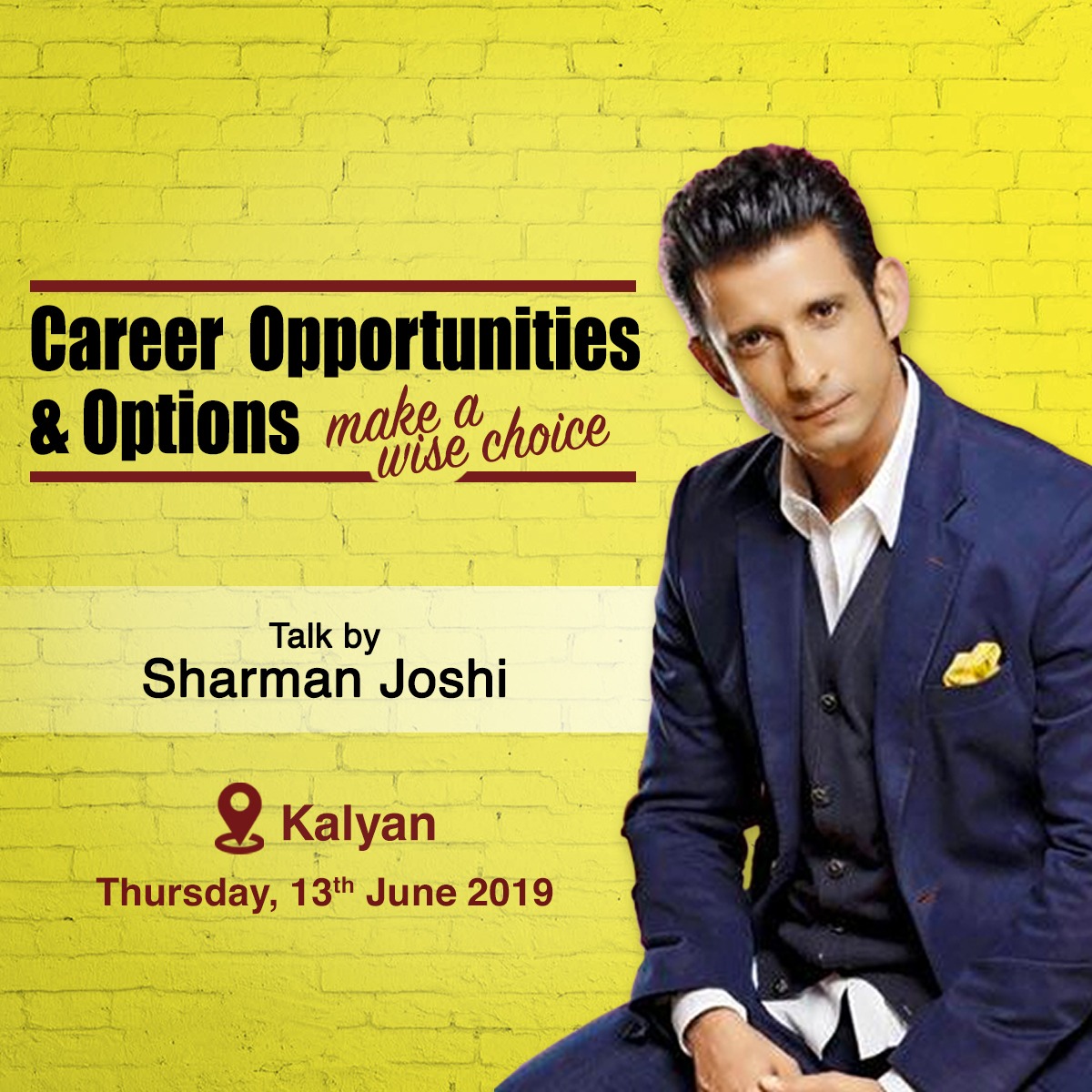 Build a Great Career with the 'Megastar' Inspiration!
If you ever happened to stumble upon the stories of great personalities who made it to success through hardships, you would certainly realise that they were highly motivated to push themselves through every hurdle that blocked their way. ARMIET Engineering College humbly invites you to witness one such success story of none other than Bollywood's celebrated megastar Sharman Joshi. 'Career Opportunities & Option' is a grand counselling event that brings together academic experts to guide young students in planning their careers wisely.
When: Thursday, 13 th June 2019, 4 pm to 7 pm. Entry: 3 pm to 3.45 pm.
Where: Acharya Atre Rang Mandir, Kalyan
Registration: Show your hall ticket or mark-sheet to confirm your seat.
The Correct Advice..!
Choosing the right career path is the most common concern that bothers every student who has recently passed their 10 th or 12 th exams. With the few days left from the day of results to the last date of admissions, the challenge of choosing the right course and the right college becomes yet more difficult. However, beginning with the right advice helps you set your foot in the right direction at an early stage. Speakers at 'Career Opportunities & Options' share the correct advice essential for understanding the intricacies of the different career paths and help you choose the best one according to your aptitude and qualification.
Find Your Motivation..!
It's very essential to be motivated at every stage of your journey leading to success. Motivation can come from endless sources. However, you have to be aware to recognize it when it comes. On a daily basis, you might come across innumerable stories that share an example of motivation. But witnessing a great motivational journey live is a unique experience. 'Career Opportunities & Options' brings you a chance of witnessing Bollywood star Sharman Joshi as he shares the motivations of his life and the experiences that shaped his journey. Most importantly, he will guide young minds in achieving their dreams by interacting live with them.
Admission Processes Simplified..!
All your career plans get stuck if you get stuck in the complications of online applications for admissions. 'Career Opportunities and Options' makes it simple for you. The session led by experienced college professors sheds light on several steps of online admission procedures, so that you don't face difficulties when the time is running out. With the right information at hand you know which documents to keep handy while filling the admission forms. Apart from the admission processes, the session also shares important details about applying online for scholarships that you shouldn't miss while at the college.
Put simply, 'Career opportunities & Options' is the kind of event that will make your higher education easier even before you begin it. So, don't miss a moment before you enrol for the event with a simple click on this link- http://bit.ly/2IfFish